African Association of Women in Geosciences
****************************************************
Day for Earth Sciences in Africa and Middle East
"Geoeducation, geoheritage and Peace building in Africa and Middle East"
19-20-21 March 2014



The African Association of Women in Geosciences and the African Geoparks Network are proclaiming the 20th March as a "Day for Earth Sciences in Africa and the Middle East" to increase the awareness about the role that earth scientists could play to help to build a peaceful, healthier and wealthier continent. This day was first celebrated in 2013. In 2014, the day will be celebarated under the title "

Geoeducation, Geoheritage and Peace Building in Africa and Middle East

".
Why the 20th March?
Equinoxes have been celebrated in cultures all over the world. In the northern hemisphere the March equinox marks the start of spring and has long been celebrated as a time of rebirth. The 20th March corresponds to the March equinox where night and day are nearly of the same length all over the world. However, even if this is widely accepted, it isn't entirely true. The March equinox occurs the moment the sun crosses the celestial equator from south to north. This happens either on March 19, 20 or 21 every year. In that way, the activities, related to the "Day for Earth Sciences in Africa and Middle East", could be extended on the 19th and the 21st March."
Activities
Conferences, seminars, courses, presentations, field trips, exhibitions, films, games, visits of Earth Sciences departments…etc. It is up to you to create and innovate in order to answer the need of your respective societies.
Target public
Pupils from primary and secondary schools, students from universities, policy makers, large public, potential partners and sponsors…all the components of your respective societies.
Partners
GSAf, IAPG, the ArabGU, SAES,YES Network, IAGETH, CIFEG, GIRAF, Monacus....So, if you are interested to be partner or supporter of this initiative or if you are willing to propose activities in your respective countries or online activities through your facebook groups, your blogs or your tweets, please join us to make this exciting experience a success.
****************************************************
Workshop Lancement des Géoparcs au Sénégal
Dakar, le 7 et 9 Novembre 2012
L'Association Africaine des Femmes en Géosciences à travers sa section sénégalaise et son Réseau Africain des Géoparcs (AGN) a organisé le 07 Novembre 2012, en marge du 2ème Salon International des Mines, un workshop pour lancer le projet de mise en place de Géoparcs au Sénégal. Cet atelier de travail fait suite aux recommandations faites lors de la première conférence internationale sur les géoparcs africains et arabes organisé à El Jadida (Maroc) en 2011. Ce workshop a été inauguré par Mr le Ministre de l'Energie et des Mines au cours duquel trois conférences ont été prononcées: 1- « Les géoparcs en Afrique : un outil de développement durable le Mme le professeur Ezzoura Errami, AAWG President & AGN Coordinator», 2- « Un aperçu de la géologie du Sénégal par Mr le professeur Mamadou Fall », 3- « La végétation comme indicateur de la nature et des propriétés des sols par Mr le professeur Aliou Guisse» :
Les échanges qui ont suivi, ont abouti à la création d'un groupe de travail multidisciplinaire pour prendre en charge les recommandations retenues qui sont les suivantes :
-Identification et inventaire du géopatrimoine du Sénégal
-Sensibilisation des populations et des autorités locales sur l'importance  de  la valorisation  du géopatrimoine en vue d'un développement socio-économique local.
-Définition des territoires pouvant être érigés en Géoparcs.
Le 9 Novembre une excursion a été organisée dans les régions de Dakar pour visiter un certains nombre de géosites.
****************************************************
A workshop entiteld "The role of women in the Earth Sciences - Experience sharing and future prospects" was organized ISPRA and by the Ordine dei Geologi del Lazio (Regional Register of Geologists of Latium) on the 30th October in Rome (Italy). This special event, the first in Italy dedicated to women and Geosciences, aims to enhance the contribution offered by women to Earth Sciences. The organizing commitee was composed by four motivated earth scientists Rita Maria Pichezzi, Silvia Brini and Letizia Vita from ISPRA and Marina Fabri from the Ordine dei Geologi del Lazio.
More than 100 participants, coming from universities, research institues, geological surveys, agencies, professional bodies, associations, policy makers, attend that event. The worshop, organized under the patronage of Consiglio Nationale dei Geologi, the EuroGeoServeys, the European Federation of Geologists, Federazione Italiana di Scienze della Terra and the Geologiocal Society of Italy, was also attend by the African Association of Women in Geosciences represented by its president Prof. Ezzoura Errami and the European Federation of Geologists represented by its executive director Isabel Fernadez Fuentes. YES network was represented via skype conference by Amel Barich.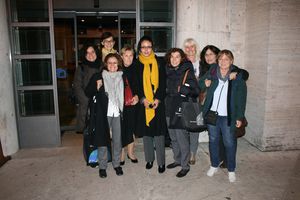 From the left to the right: Silvia Brini, Sveva Corrado, Chiara D'Ambrogi, Rita Maria Pichezzi, Ezzoura Errami, Letizia Vita, Serena Maietta, Marina Fabbri, Daniela Delogu
For more information, please consult the following link
http://www.isprambiente.it/en/events/the-role-of-women-in-the-earth-sciences-experience-sharing-and-future-prospects
****************************************************
A new group of Earth Scientists has joined the African Association of Women in Geosciences Society of African Earth Scientists. Dr Chukwunyere Kamalu is the acting chairperson.